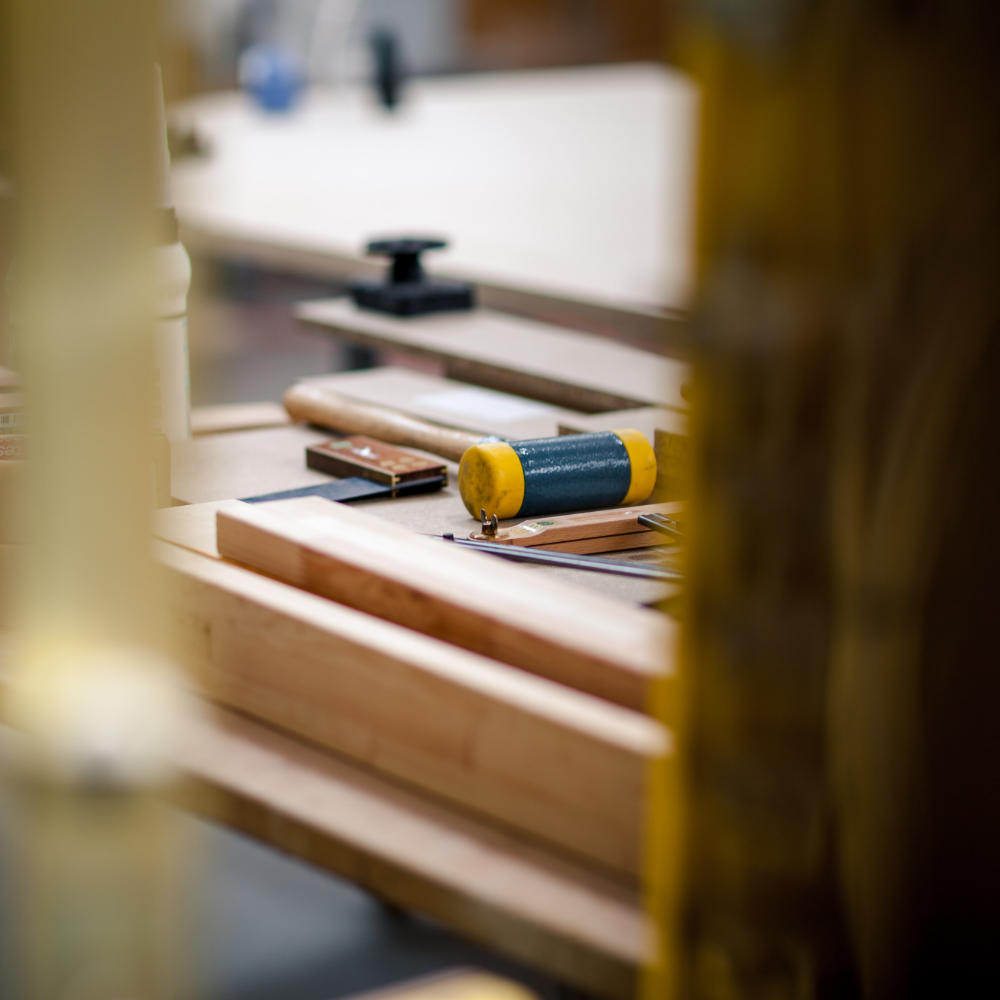 Our Scaffold boards – New and Reclaimed
We always have a stock of scaffold boards in both new and used. They're all for sale and we use the reclaimed ones in our workshop to make shelves and tables. We like scaffold boards and they're popular for many uses eg raised beds and furniture making as they're a good size.
We get large quantities of used scaffold boards from scaffolders when they no longer meet health and safety regulations and so can't to be used on building sites. We cut off damaged and notched parts of the boards and cut them to standard sizes as below.
As they are used boards they will all be slightly different, some may have surface damage, cracks, a slight warp or twist, something spilt on them, or the scaffolders name stamped on the side – it all adds to the rustic character of the boards. Each board will be slightly different. Bearing this in mind we encourage our customers to pick their own boards where these factors are important. We can also select boards for you, it helps if you let us know what the boards are for so we can select boards suitable for your purpose
We also stock brand new boards which are graded to BS2482 and so can be used as scaffolding.
What size are scaffold boards?
They are approximately 225cm wide x 38mm thick. They come in lengths up to 3.90m long, we generally have the following lengths in stock
1.0m, 1.2m, 1,5m, 1.8m 2,1m 2,4m 3.0m and 3.9m
What wood are scaffold boards made from?
Scaffold boards are made from pine or spruce
Are scaffold boards seasoned timber?
No scaffold boards are NOT seasoned (dried) before being used as scaffolding.
Are scaffold boards treated against rot?
No, if they are being used outside a preservative can be applied to lengthen their life.
Are they suitable for making furniture?
Yes but worth keeping in mind that they are not seasoned wood (ie not kiln dried) they will have a relatively high mixture content. We store them in the dry but they are still likely to retain moisture from their outdoor life and when they get into a centrally heated home they may shrink and twist or warp as they dry. We suggest where possible to leave the boards inside a heated room for a couple of weeks to dry them and acclimatise them to where they will be. They're still quite likely to shrink and 'move' over time, but that's part of the charm and character of the boards.
Are they suitable for making furniture?
Maybe! Often they will have a metal end band on one end only as they have been cut down from a longer length. 3.9m used boards usually have bands on both ends, some of the shorter used lengths may have as well.
We sell metal bands separately.
Our new boards in lengths of 2,4, 3,0 and 3.9m have metal bands on both ends.
Should you need to the bands are quite straightforward to remove with a screwdriver, pliers and some brute force.
Any advice on using Scaffold boards outdoors?
People often use them as raised beds as they're an ideal size for this. When making raised beds we recommend using a post in each corner eg 45x45mm and approx 200mm long to screw the boards to. The posts do not need to go into the ground as the weight of boards and soil will hold the structure in place. Taller beds can be made by using more layers of scaffold boards We can supply the posts too.
A preservative can be applied to extend the life of the boards, worth checking if it's ok to use a particular preservative if you're planning to grow fruit and veg in them.